Visiting colleges with a high school-aged child is exciting and challenging. College tours and visits offer an opportunity for quality bonding before your kid starts a new life as an adult. If Oregon State University is on the visit list, we would like to share tips on how to get the most out of your visit.
As a parent, when your child starts applying to universities you know you have reached a turning point. You want to do everything you can to ensure a bright future as an independent adult. But you also hate to see her or him leave home! Why not turn those college visits into a special memory you and your child will cherish?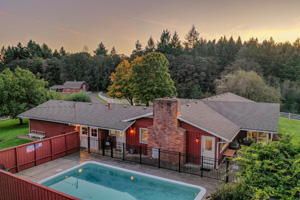 Five Tips for a Special Visit To Remember
Plan Ahead
While there is a certain romance to a spontaneous road trip, you will find more opportunities to taste university life with advance planning. Sometimes tours happen on the same day as sporting events and other Oregon State activities. Check out Visit OSU to schedule tours and to learn what activities may be available.
Get Local Advice
Thanks to social media, it is easier than ever to get local advice to help choose the right restaurant or find other local amenities. For example, the Corvallis People Facebook Group is very active and friendly. Find the best local pizza or the best tacos, or anything else of interest through local recommendations.
Yelp, Reddit, and Oregon State University's Facebook groups all offer opportunities to read reviews and get recommendations from locals.
If you have to eat out, why not make it special and check out a local favorite?
Plan To Stay an Extra Day if Possible
Corvallis is located in the heart of the Willamette Valley. It is just a reasonably short drive away from the scenic Oregon coast, Willamette Valley wine country, and other cities like Salem, Eugene, and Portland.
Oregon contains so many natural attractions, and Corvallis is no exception. Cyclists, hikers, boaters, climbers and other outdoor enthusiasts love Oregon's diverse and scenic landscapes.
For a free activity to enjoy with your family, consider a walk or short hike in one of Corvallis parks. Some popular local trails include Bald Hill Natural Area, Chip Ross Park, McDonald Forest, and Fitton Green Natural Area. These parks or natural areas are located within or just outside Corvallis and you can easily spend anywhere from an hour to a day enjoying them depending on the trail you choose.
Corvallis also features a network of bike paths. In addition, some of the areas mentioned offer mountain biking trails. Downtown sporting goods store, Peak Sports, rents bicycles for an affordable price.
Avoid Parking On Campus If Possible
Corvallis is small enough that it is easy to avoid the stress of parking on campus. The city buses are free and they offer an app to track their schedule. The university also maintains a shuttle to help visitors get around on the campus. Uber, Lyft, and local cabs all offer reasonably priced transportation.
Consider staying at a quiet guesthouse that offers free parking or residential on-street parking. Corvallis is reputed as a safe community, especially in neighborhoods.
Stay Somewhere Special
Sure, you can always stay at a chain motel or big box hotel. However, a cozy and comfortable guest house is the perfect place for a home away from home. Fernwood Circle Guest Houses offers upscale vacation rentals is real Corvallis neighborhoods. What better way to see the town than to actually stay in a residential neighborhood rather than a hotel in a commercial district?
With locations near campus, enjoy a quick breakfast with organic coffee before heading off to the campus tour activities. At the end of the day, relax at the guest house and talk about the day. Conversations may quickly turn to the future and you may even get to know your kid on a slightly deeper level.
Check out our Guest House listings to select your home away from home during your visit to Oregon State University.
For more ideas and tips on how to make the most of your visit to Corvallis, Oregon visit our article library, like us on Facebook, or follow us on Instagram. We look forward to connecting!