Whenever it is time to book a night away, whether for business or leisure, it is almost second-nature to start comparing hotel rooms. Hotels are great for trips abroad or treating ourselves to a luxury weekend away. However, they don't suit everyone, or every situation.
The best Corvallis hotels for tourists may lie close to attractions and nightlife, but aren't always in a convenient location for business travelers. The high prices are fine for advance bookings and long holidays, but not for last-minute travel plans. Others find that hotels just aren't homey enough. This is where home-like lodging alternatives from Fernwood Circle Guest Houses can make all the difference.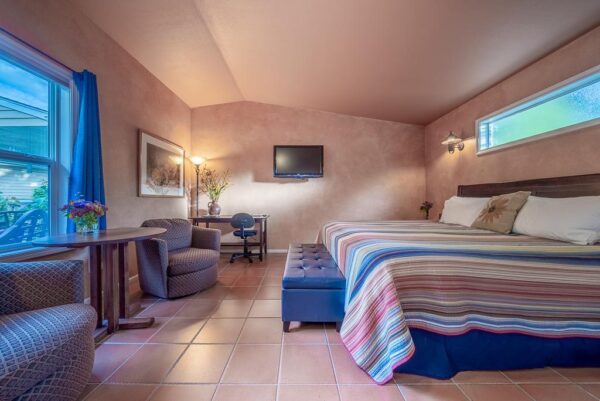 Hotel comparison websites and online booking portals may claim to offer the best deal. However, this still takes a lot of effort and time. Airbnb is a popular option for many business people and budget travelers, but can you be sure that all those listings and reviews are authentic?
Home-like rental properties in Corvallis provide a great alternative. They are the ideal middle ground between homey, private accommodation and the luxury of a hotel. Fernwood Circle Guest Houses excel here by providing the upscale comforts of a hotel in a comfortable cloud-like bed and breakfast environment. It is also much easier to find a great rental when dealing with us direct. There is no reservation processing fee and no hassle.
Fernwood Circle properties provide this homey feel for travelers.    Why spend hours searching and comparing hotel deals for a compromise when you can find a great home-like lodging instead? That is precisely what you get when you book directly with Fernwood Circle Guest Houses with five guest houses in Corvallis, Oregon. Each property has its own personality and features, but they all share the same sense of style and comfort. Guests are free to make themselves at home, with self-catering facilities and spacious living areas. Yet, there is still a feel of the hotel with the high-end organic products and linen.
A short stay in one of our Corvallis rental properties offers a more authentic flavor of the area.   Hotels are great if you want to treat yourself and experience a city as a tourist. However, there is that divide the tourist-focused side of a destination and its true colors. A home-like rental property places you in the heart of the area and community. This community feel is important to us here at Fernwood Circle. We make sure to buy local goods and produce to kit out these properties in style. This way we can give something back to the community.
This vibe and location is great for any parents of OSU students. Our properties are just a short distance from Oregon State University, so are ideal for visiting parents. These properties are conveniently located so that parents can visit students on campus for a day. They are also great for parents and young adults visiting different campuses before enrolling. The location, local produce and relaxed feel offer a sense of what it is like to live in the area. This can provide a little peace of mind to apprehensive parents.
We are also happy to welcome business travelers that want a break from the usual hotels. It is easy to fall into the same old cycle when traveling for business. Every hotel ends up looking the same, with the same basic facilities. These Corvallis short-stay rental and bed and breakfast solutions offer a break from the norm, great facilities and the space to work on projects. Why spend days fighting over space in tiny Wi-Fi hotspots, or losing sleep in an uncomfortable bed?
A home-like option from Fernwood Circle Guest Houses lets you work, rest and play in peace.    It is time to say goodbye to the usual hotel rooms and enjoy affordable, comfortable home-like rentals.    There really is no need to go through the stress of finding an affordable hotel room, or the uncertainty of an Airbnb listing. At fernwoodcircle.dev.cc, you have direct links to some of the best short-stay rental accommodation in Corvallis. It is easy to browse the listings, choose the right location and know exactly what to expect. The secure reservation process and lack of fees just sweeten the deal.
Whether you are in town for two night or a long weekend, we can help you find the perfect home away from home. Check out our reviews, browse the photos of our properties and see how we can make your trip to Corvallis more memorable.