If you are a craft beer lover, you should feel at home in Corvallis! Craft beverage enthusiasts have plenty of tasty options thanks to Corvallis craft breweries, wineries, cideries, and local kombucha brewers. Guests often ask, "What is there to do in Corvallis Oregon?" There's plenty to do, whether visiting Oregon State University, working on a temporary basis for Samaritan Health Services, or following the Mid-Willamette Valley Food Trail.
Guide to Corvallis Craft Breweries and Locally Made Beer
If you enjoy beer, a visit to a Corvallis Oregon brewery is among the top things to do in Corvallis. The entire state is nationally recognized for its thriving craft beer scene. Although this scene is concentrated in Portland and Bend, other Willamette Valley cities like Corvallis are very much part of the scene.
What Makes Corvallis Beer Special?
Corvallis is home to Oregon State University which provides a steady influx of people who want a place to relax, socialize and enjoy a nice pint. Yet, the connection between Corvallis and beer goes deeper. In fact, Oregon State University is home to a Fermentation Science degree option.
Researchers from OSU's Food Science department publish research sometimes leading to innovation and new techniques. This tradition and approach are, in fact, deeply rooted in Willamette Valley beer culture.
The mix of tradition and creativity comes through in every sip. The Pacific Northwest's foodie culture also plays a role since quality ingredients are fundamental to a quality brew.
For example, Sky High Brewing is a Corvallis brewpub that offers unique craft beer in a premium yet casual atmosphere. Head brewer Paul Harwood of Sky High Brewing took a moment from his busy schedule to offer a few insights from an insider's perspective.
"We approach brewing as holistically as possible," Paul explained. "Good ingredients, good techniques, good ideas – all lead to good flavors!"
Sky High sources most ingredients from western states including Oregon, Washington, Idaho, and California.
"Everything from grains and hops to fruits and rose hips!" Paul said. "I would say about 90% of our sourcing by weight and dollar value comes from this area with the remaining 10% split evenly between domestic U.S. sourcing and international imports. Things like coffee for example are roasted here in town but ultimately come from abroad."
According to Paul, he opts for sustainable ingredients such as grains and hops farmed using Salmon Safe, organic, or Dry Farm Certified techniques. In case you are unfamiliar with dry farming, it is a set of agricultural practices that don't rely on irrigation. Locally, Oregon State University happens to be a leader in promoting dry farming techniques as sustainable options for the wine, beer and other agricultural industries. Consumers often notice more intense, "less diluted" flavors as a result of dry farming.
Corvallis brewers craft a variety of popular and sometimes unique beers. When asked about Sky High's most popular brews, Paul replied that the Pilsner is a crowd pleaser.
He explained, "I think that the long standing consistency of this beer makes it a go-to for many of our regulars and a great choice for folks who are at the pub for the very first time."

"It is crisp, and clean with a very well rounded grainy-bread flavor with very low sulfur that makes it super appealing to folks that want that 'refreshing' feeling from a beer. I think that it also adheres very much to the classic Bohemian style of pilsners which purists also appreciate and at the same time this is all achieved with 100% local ingredients (from Oregon or Washington)."
This blend of classics with a new twist draws people to the Corvallis breweries. Each of our local brewers draw from a similar blend of tradition, ingredient sourcing, creativity, and innovation.
The Corvallis Tasting Room Experience
Corvallis breweries often run tasting rooms or brewpubs where you can enjoy a craft beer or other beverages along with delicious food. The vibe is usually relaxed, unpretentious and friendly. In case you are unfamiliar with brewpubs, they are open similar hours to other bars and restaurants. However, it is always wise to check the website or social media page if you plan to visit a specific brewery.
Most local brewpubs are all-ages restaurants with a family-friendly atmosphere. Sky High is one of them.
Sky High is a multi-story brewpub with a mezzanine level overlooking the brewery on the ground. The main level features the full restaurant, bar, and covered porch along with a roof level that is open seasonally April-October complete with cornhole boards.
Paul explained the seasonal rooftop bar "is also full service, has cornhole boards and offers panoramic views of the downtown Corvallis and on clear days all the way to Mary's peak in the Coast Range. It has a very relaxed and casual vibe to the whole place. Family friendly with a full service bar and gluten free options on the menu, there is just about something for everyone!"
History of Willamette Valley Beer
Oregon, as a state, produces high-quality beer for a range of reasons. Water quality, great conditions for cultivating hops, and a unique beer culture contribute to the state's success. The Willamette Valley, in particular, is home to unique, world-class craft breweries.
According to the Oregon Historical Society, a young German immigrant named Henry Weinhard purchased Portland's first liquor license and opened Weinhard City Brewery. The brewery even survived prohibition by crafting near beer and root beer. Eventually, it was bought out and merged to form Blitz-Weinhard which eventually was sold to the Pabst Brewing Company.
Despite the fate of Portland's original mega brewery, craft brewing thrived with a few ups and downs over the decades. The region's industry still attracts creative and passionate brewers. In 1985, McMenamins opened Oregon's first brewpub in Portland, and later opened additional pubs throughout the state including two in Corvallis.
Planning Your Beer Tasting Visit
If you are looking for things to do in Corvallis, there are several options that would round out your beer tasting trip. Some ideas may include:
With a mild climate and breathtaking natural spaces, Corvallis is a home base for outdoor enthusiasts who enjoy hiking, biking, and floating the river.

Golfers will be happy to learn that Fernwood Circle Guest Houses has a special arrangement with The Corvallis Club where our guests may play a round. Talk with Alexandra in advance of your stay if you are interested.

Cultural attractions and events at Oregon State University, one of the area's museums, The Majestic Theatre, The Whiteside, or The Darkside Cinema are great if you enjoy arts and entertainment.
Finally, no guide to beer tasting would be complete without mentioning the breweries. We featured Sky High Brewing, but each Corvallis brewery offers its own variety of beer and approach to brewing and hospitality.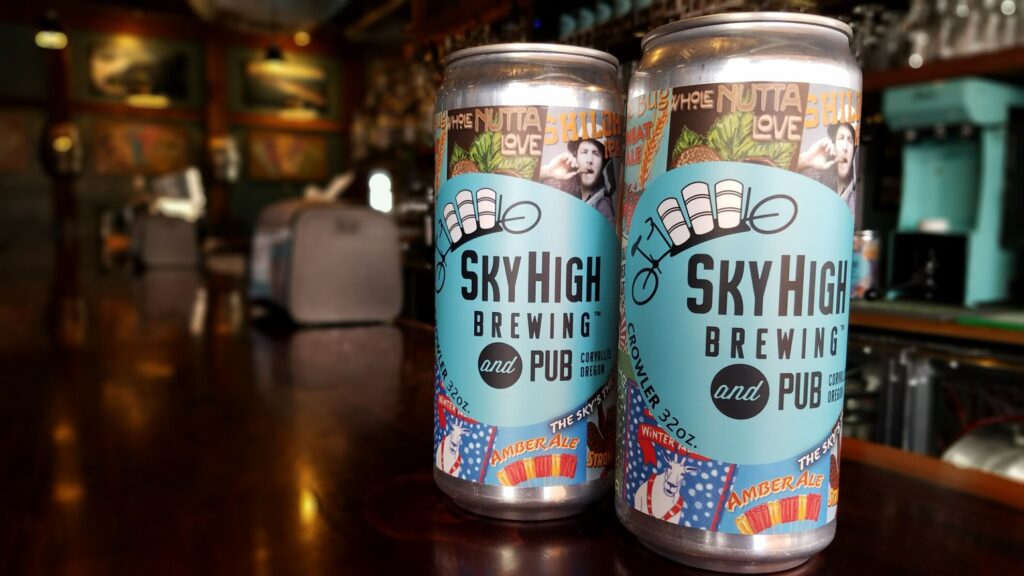 In addition to listing the brewery, we included mention of the most popular beer according to reviewers who use the beer social media platform Untappd. Keep in mind, you might find something you like even better on the menu.
Popular Corvallis Craft Breweries (As Well as Some Near Corvallis):
Each of these breweries has loyal local fans and is sought out by visitors. Since flavor preferences are so individual, you may enjoy asking your server to help you choose a beer you would enjoy. Some may give you samples to help you make a good choice.
Choose Accommodations as Unique as the Brews
After an evening of tasting beer, you are going to want a good night's sleep. Why not stay in a stand-alone guest house like one of Fernwood Circle Guest Houses' short-term rentals?
Our immaculately clean, private guest houses are stand-alone homes in real residential neighborhoods. Most include outdoor spaces like decks, gardens or patios where you can chill on a nice afternoon or evening.
Visit our booking page to learn more about our affordable yet premium guest homes.